Turning Cast Off Clothes Into Art: A Case Study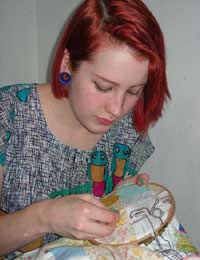 North university graduate, Beth Potts, never has a problem deciding what to do with her unwanted clothes.
Beth, 22, from Heywood in Manchester, turns them into eye-catching art like framed 'dandy men' portraits or striking kitchen aprons.
Beth, who studied textile surface design at Bolton University, has been a keen recycler for a number of years.
Sewing Skills
She says she fell in love with her Grandma's sewing machine when she was just six and she's loved everything about sewing ever since.
"I really enjoy hand-stitching and intricate embroidery work – that's my passion at the moment," she said, "Although I have made myself some simple garments like straight skirts from recycled material."
Beth visits charity shops on a daily basis because "you never know what might come in and it would be awful to miss something good" and friends and family happily pass on unwanted garments, buttons and pieces of interesting fabric.
Finding Materials
"Everyone knows that I'm always on the look out for materials that I can use," she said. "They save me lots of scraps of material and any clothes that they no longer want.
"I also buy occasionally from a house clearance shop. When I was making the portraits for my degree work, I managed to get a number of old picture frames from there.
"In total I only spent around £50 on all the materials I needed for my degree portfolio when other students were spending hundreds of pounds on different fabrics."
Currently, Beth works part time at Retro Rehab, a vintage clothes shop in Manchester, where she mends and alters outfits.
But she is also hoping to establish a successful online business making unusual art, embroidered pinnies and kitchen and dining room accessories.
Exhibition Success
Last year she was invited to display her work at a major festival in Manchester and she also sold some of her work at an exhibition for new designers in London.
"The portraits were part of my degree submission and they were great fun to do. I used a range of materials including cotton shirts, men's trousers and reclaimed buttons."
Beth has also branched out into making useful items from other people's cast offs.
"At Christmas I made napkins for my mum and some other relatives and I also made my own Christmas cards," she said.
Fun for Children
"People appreciate the time and effort that you put into a handmade gift and it's a great idea for children to make little presents like pin cushions or needle holder pouches."
"Making button portraits or montage pictures with different types of fabric is also a great way for children to pass the time on rainy days," said Beth, "And their work can be hung in their bedroom or playroom."
Beth has now set up her own small business, Beth's Sew Recycled which she promotes through Facebook and she is building an online portfolio of work and products for sale.
"I'm really hoping that my work will appeal to people looking for something unusual and I am also happy to undertake commissions," she said.
You might also like...