How to Recycle Our Office Telephones?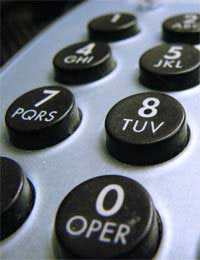 Q.
We have 8 landline telephones that we want to recycle. Can you please advise the best way to do so?
(S.M, 14 May 2009)

A.
Unfortunately you haven't given us any information about the type of telephones you want to recycle.
Countless companies now advertise for unwanted mobile phones which are recycled to raise money for charity and lots of organisations are interested in old PABX telephone systems and IT equipment.
But without information on the type and age of phones you have, it is difficult to say whether you would need to pay for them to be removed as waste or could actually sell them to be refurbished.
Money in Old Phones
If you have the traditional type of square telephone with rotary dial, fitted in the majority of offices and homes between the 1970s-1980s then you might be able to sell them.
Some online companies advertise for old telephones which they refurbish and sell to collectors and the "old" phones that many householders binned 10-15 years ago are now highly collectable.
But if the phones are newer, then it could well cost you for disposal. Under WEEE regulations it is now illegal for businesses to dispose of their old telephone equipment in normal refuse.
WEEE Contractors
You would need to get quotes from a company which is licensed for the removal of WEEE equipment. It sounds sad that they can't go to a new home in the developing world but experts say that the work involved in collecting, refurbishing and shipping older units does not make it a viable proposition.
Are your telephones separate units which all plug into a telephone wall socket separately. This would be unusual if there are eight units so if they are part of a PABX system, you might be able to sell them to a new or small business which can't afford to buy a brand new system.
However, if the phones are individual units and are digital telephones, you could ask charity shops if they would like to take them but many won't – especially if the phones have a company logo.
Other Options
Other ideas to dispose of them without cost would be to find out whether nurseries or toddler groups would like them for use in their play-office or shop.
You could also offer them free of charge to members of staff as an extra extension phone for use at home.
Another idea would be to sell them for just the cost of your postage through an online auction site such as Ebay but people advertising digital phones with the highest range of features often struggle to sell them.
You might increase buyer interest in yours if you advertise them on the site as charity items which means you are promising to donate any cash paid for them to a charity or good cause.
Finally, if you decide you need to dispose of them as waste, the best option is to contact your local authority to get contact details for WEEE contractors in your area. You could then get disposal quotes from two or three of them. They will then strip them of any material, such as copper wires, circuit boards etc and harvest any parts that can be recycled.
You might also like...
We have over 100 telephones with handsets to recycle/ donate, the models are: • LG ipecs LIP-8002E • LG ipecs LIP-8024E Please could you let me know if you would take them?
The Parish Council would like to donate the following phone system, if someone could come and collect it. Panasonic 1 x KX7730 1 X KXDT333 6 X KXDT321 I LOOK FORWARD TO YOU RESPONSE
LickyNee
- 28-Sep-21 @ 11:09 AM
We have Phones that we would like to recycle. Poly Phone models CX300 x 20 CX600 x 28 Cx700 x 2 Vvx600 x 1 Cx500 x 2 Vvx411 x 1 Cx200 x 1
Archie
- 6-Sep-21 @ 4:37 PM
I have 19 desk phones to recycle MITEL 5320IP
DEBBIE
- 4-Jun-21 @ 3:54 PM
I would like to recycle 6 office telephones and 2 wifi routers
Adrianna Papell
- 5-Dec-18 @ 11:09 AM
Phil Parsons - Your Question:
We have Phones that we would like to recycle. They are AVAYA 121O IP desk PHONE models ntys18. Can these be recycled. Thanks Phil
---
Our Response:
I'm afraid you will have to do an online search to try and find someone who may take them, as we can't recommend specific companies.
RecyclingExpert
- 26-Aug-15 @ 10:34 AM
We have Phones that we would like to recycle. They are AVAYA 121O IP desk PHONE models ntys18. Can these be recycled. ThanksPhil
Phil Parsons
- 25-Aug-15 @ 9:20 AM