Ideas for Recycling Wine Bottle Corks?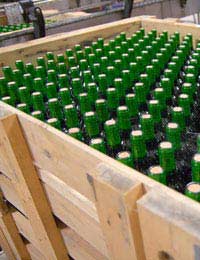 Q.
Do you have any ideas on further use for a binful of wine bottle corks?
Can these items be recycled? Are these used in school Arts & Crafts projects at all?
(A. Shuff, 10 February 2009)

A.
Corks from wine bottles are lovely objects to look at and have around, but not so easy to use or dispose of easily. While traditional corks are made from real cork, which is a type of wood and therefore an organic material, which is recyclable and compostable; there is now a move amongst wine producers to use corks made from a thick sponge-like plastic, which will take much longer to biodegrade. These plastic and resin based corks are now used in at least a third of all wine produced, particularly from so-called 'New World' wineries in Australia and Chile. They are being brought into production because there is said to be a shortage in the amount of cork being grown, mainly from arid countries.
I personally throw the real corks into our home compost: while it breaks down it has the advantage of being a solid compostable item in the compost bin, which helps to aerate the compost as it rots down. The cork will break down much faster if it is cut up and pulled apart into many little pieces - this is a time consuming job many householders may not want to do, so it is reasonable to just pick them out of the fresh compost every season, and throw them back in.
Using corks for arts and crafts project is a great idea, and they can be used in so many ways like this. Several years ago at the Eden Project in Cornwall an artist displayed lifesize animal and human figures made entirely from discarded corks from wine bottles. Cork is actually grown at the Eden Project to demonstrate to the general public how it is grown and manufactured, so a trip there is well worthwhile!
It is definitely worth contacting local schools and colleges to see if they could use your binful of corks. An enterprising headteacher or arts and crafts teacher might well be willing to accept these now in anticipation of using them at some later stage. Also, talk to friends and family in the local community to see if there are any local artists, or community art projects that might be willing to take them.
Another good idea is to save corks to use them as an insulation material. Either cut up or lain flat, cork can be used in attic spaces, in a similar way to how paper can be recycled as insulation material.
You might also like...
If I havebottle made of HDPE with a PE label on it - do I need to remove the PE label before putting it in the recycling bin? Thanks Saskia
Saskia
- 18-Feb-16 @ 12:40 PM
I want to find some useful information in this blog really nice place. Thanks for sharing this great information thank you for this and your guidance about this idea....
domestic cleaner lon
- 6-Aug-12 @ 3:32 AM