Turning Winery Wastewater Into Power: A Case Study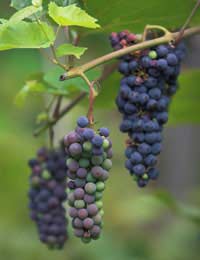 For most industries, wastewater tends to be looked upon as a bit of a problem that needs to be treated and then disposed of properly, rather than a potentially valuable resource, but that might be about to change if the lessons learnt at one Californian winery can be applied elsewhere. That's the hope of Bruce Logan, Professor of Environmental Engineering at Penn State University, who realises that part of the battle to get support for the idea lies in getting the word out to a wider audience.
As he explains, "we chose a winery because it is a natural tourist attraction. People go there all the time to experience wine making and wine, and now they can also see a demonstration of how to make clean hydrogen gas from agricultural wastes."
Harnessing The Power Of Microbes
The Napa Wine Company in Oakville, California recently began hosting the pioneering demonstration, which uses microbial electrolysis – a highly efficient and renewable process which has rapidly developed since its invention in 2003 – to turn organic material into hydrogen. It's based around the natural ability of some kinds of bacteria, but today's applications take the idea to a whole new level of efficacy, with gas yields approaching almost 100 per cent – unprecedented efficiency elsewhere in the field of energy production.
A Little Science
Inside what Logan describes as a "refrigerator-sized hydrogen generator" are a series of electrodes, bathed in the winery's wastewater – the dirty water that arises from the process of wine making itself, as well as from grape disposal, washing down equipment and allied activities. The activities of a resident colony of electro-chemically active bacteria ultimately convert the organic material the wastewater contains into CO2 and hydrogen. Although the whole thing requires a small amount of electricity to work – typically only around 0.2V – it produces a very high yield of hydrogen.
The partially treated water that remains after the process is sent off to the winery's own treatment plant before being recycled to irrigate the vines, but it is what happens to the hydrogen gas produced that is the most important part, because it goes to feed a fuel cell.
Fuel Cell
These days, everyone has heard of fuel cells, even if they're not entirely sure what they are, and although they sound incomprehensibly high-tech and modern, the reality is, they're actually neither!
The basic idea behind them is surprisingly simple. They're fundamentally a battery, although unlike the sort you put into your torch, they aren't self-contained; you need to supply them with a steady supply of fuel. That, of course, is where the hydrogen comes in – and keep it flowing and they'll never stop producing electricity. Best of all, it's clean and green all the way, since the only by-products of a hydrogen fuel cell are water – typically as steam – and heat, which holds the obvious promise of emissions-free power.
Amazingly, although we tend to think of this as a very new, state-of-the-art concept, the fuel cell was a Victorian idea – invented by the Swansea-born Sir William Grove back in 1839. It's more than a little ironic that the device that many people see as the "future" of cars, was actually devised nearly 40 years before the four-stroke internal combustion engine!
It is, clearly early days for the whole microbial electrolysis / fuel cell idea. As Bruce Logan himself says, "this is a demonstration to prove we can continuously generate renewable hydrogen and to study the engineering factors affecting the system performance." If it all does go according to plan, however, then the way we look at wastewater – and energy production – might be about to change forever.
You might also like...