Turning Italian Rubbish Into Energy: Case Study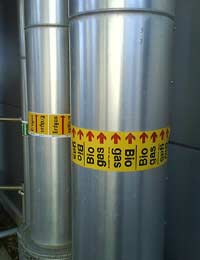 One of the most attractive features of anaerobic digestion (AD) is its potential to turn waste with a significantly high organic content into methane-rich biogas – a potentially useful, and sustainable, source of energy. Unsurprisingly this is something that has led to it being widely used across the globe, in one form or another, but despite the obvious lure of AD, making the idea work is seldom without its share of technical challenges.
For one thing, it can be inclined to be a little temperamental, requiring careful management to obtain the best yield and, as with any facility where waste is broken down biologically, odour nuisance can be an issue. As Rivalta Energy's plant outside Mantova shows, however, with a well designed set-up, it certainly can be done and it can also be integrated into other local waste management and recycling initiatives very successfully too.
Mixed Organic Waste
One material that AD has been used on very successfully over the years is farm slurry, and, with a ready supply of dairy manure available in the municipality, the designers decided to capitalise on the benefits to be had from using a mixed waste feed for the digesters. Using cattle slurry in the process helps provide the necessary wetness required to produce a suitable organic soup from the largely drier household and commercial organic material, which is essential for the process to perform properly. In addition, it also acts as a natural supply of many of the micro-organisms that are responsible for making the process work, since in many ways the conditions inside an AD bioreactor are much the same as in a cow's stomach – just on a very much larger scale!
The AD Plant
The plant itself was built to take 10,000 tonnes of household, commercial and farm waste each year. Three individual pre-treatment compartments have been constructed, each one some 70 cubic metres in volume, to receive the waste as it arrives, and it is inside here that the different materials are mixed together to make a uniform slurry. This is an important stage in the proceedings, because if the mixing is not done thoroughly enough, the material may be broken down at different rates in different parts of the digester. It is vital that the whole thing proceeds at the same speed; a poor mix may even make the entire process grind to a halt altogether.
Once this has been correctly achieved, which can take anything from 15 minutes to an hour, depending on the exact nature of the waste material being used, the slurry is checked mechanically to remove anything non-organic that cannot be digested, and then enters the digester vessel itself.
Mantova's digester is technically known as a 'completely mixed system' and comprises two primary and two secondary cells. If it was important to make sure the original material was properly mixed in the first place, it is absolutely essential to ensure that it stays thoroughly mixed once it is actually being digested. To do this job, a series of mixers inside the digester cells keep the soup moving, which optimises the conditions for the microbes within, and as a result maximises the amount of biogas produced. This gas contains a relatively high percentage of methane, which makes it useful as a fuel to drive electrical generators.
Measuring Success
It seems that the plant has been successful on a number of levels. In terms of energy production, there are currently a total of four 350kW generators, which are producing around 1MW of power at the moment, but the installation has been constructed in such a way that it can easily be expanded to achieve double that, when the need arises. The technical challenges posed by the need to keep potential odour nuisance at bay have been met by means of a sophisticated bio-filter system, to scrub bad smells from the air, thus overcoming one of the major objections often levelled at AD plants.
Perhaps, however, the most important measure of its achievements lies in the fact that three further new plants are planned, using the same technology. They do say that nothing succeeds like success!
You might also like...