Campaigning Student Encourages Sustainability: A Case Study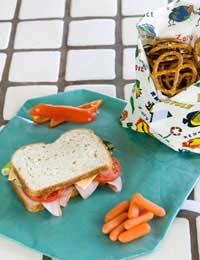 Lots of us take our recycling seriously – but London student, Emily Kenway, has gone a step further.
Emily, 23, is passionate about recycling and uses every opportunity to encourage others – and even retailers – to take the re-use message seriously.
"I've always been interested in finding re-usable products instead of settling for one-use-only products. Often they aren't biodegrable and they'll spend hundreds of years in a landfill," she said.
Cleansing Pads
One product she is keen to promote is the washable (and most importantly reusable!) cleansing pad - as an alternative to the one-hit-wonder cotton wool.
And she has not only encouraged her friends and family to buy the product, she has already persuaded a major eco-friendly online retailer to stock it.
"I emailed the retailer to tell them about the product and to let them know that one of their rivals was stocking it.
"I have also sent emails and letters to Boots asking them to stock it. So far I haven't had a response but I won't give up. I'm thinking of other angles because they are at the forefront of retail personal care and it would be fantastic if they stocked this product.
"I think they should use their top position in the market in a valuable way."
No Cling Film
Emily insists on using re-usable food containers so she stays well clear of products like cling film and kitchen foil.
Instead, she uses a washable sandwich wrap and says it's an ideal product for eco-friendly people who want to reduce their waste levels.
"I buy one called WRAP-N-MAT which is a fair-waged product. It takes up very little space and as well as keeping your food fresh, it's also a hygienic placemat for you to eat anywhere you please.
"It just needs a quick wash in warm water and it's ready for the next time I need it - it's great! I also take my own travel mug with me wherever I go instead of using non-reusable drinks containers."
Emily is always looking for new and innovative ways to conserve energy and reduce waste and she recycles as much as she can – although this can be difficult sometimes when local councils don't help out as much as they could.
Simple Actions
"I go out of my way to re-use and recycle as much as I can – but it wouldn't be much of an effort for everyone to simply recycle their morning newspaper or juice carton instead of just discarding them. Every little helps!
"When I'm shopping for food or supplies I'll always see if there are more eco-friendly options available, such as recycled printing paper, tissues or toilet roll. Simply choosing eco-friendly washing detergent can help to save energy, using a lower temperature for each wash load."
Emily often sends friends and family birthday gifts with an eco-aim and she tries to let people know about new reusable products or ways to be more eco-friendly.
Think About Purchases
"Instead of consuming so much, we should ask ourselves before buying 'do I really need this?'
And if you do need to make a purchase, there are many energy saving products available from eco-kettles to light bulbs.
"It would be ridiculous to suggest that by using an eco-kettle and recycling my newspapers that I can stop climate change," she said, "But if everyone does the same, we can make a huge difference!"
"We need to think about how we live and we should all be choosing to use well-made things which will have a longer life or can be re-used or recycled if we want our planet to be a decent place to live in a few hundred years.
"This doesn't have to mean turning our back on technology and innovation - it just means considering the long-term consequences of what we do."
Shoppers Have Power
At the moment Emily is looking for an alternative to tampons and believes that it's up to consumers to demonstrate a demand for greener products.
"If retailers see that we want more eco-friendly, energy saving products, then there will be a change in the products we see on the shelves.
"We have seen a huge increase in the range of Fairtrade products more readily available in most major supermarkets in the past 10 years because more and more people are aware of political issues surrounding their purchases.
"And it's up to us to look for recyclable or sustainable products which will not end up in a landfill site in years to come."
You might also like...