Using Algae to Clean Up Agriculture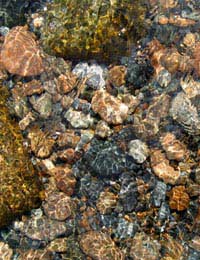 Everyone seems to be talking about algae nowadays; these simple plants seem to have gone from being the most unwanted guest in our garden ponds to the bright new hope for energy production in next to no time! While that they still have a little way to go before they'll live up to their promise as the way ahead for biofuels, it seems there's a ready role waiting for them right now to help clean up agricultural pollution and recycle waste nutrients back into useful fertiliser.
Many rivers, streams and watercourses are prone to receiving surface water runoff from neighbouring farms and fields, particularly at times of heavy rain or in prolonged wet weather, which risks often contaminating them with agricultural chemical fertilisers and manure residues. In some places this can also have a detrimental effect on coastal waters, which can both have environmental effects and lead to public health concerns for seaside resorts and bathing waters. Now, it appears, the natural ability of algae to make rapid use of excess nitrogen and phosphorous, which leads to the dreaded green-water in garden ponds and damaging algal 'blooms' in larger bodies of water, could also be the start of solving the problem at source.
Scrubbing with Algae
Back in 2003, Walter Mulbry, a microbiologist working for the Agricultural Research Service, set up four experimental units, called algal turf scrubbers, to investigate how effective algae could be at removing nitrogen and phosphorous – the two main problem chemicals.
Over the next three years, from each April to December, a mixture of fresh water and manure from dairy cattle was circulated within these shallow, 100-feet long lagoons, which were fitted with nylon netting to give the algae something to grow on – and grow they did! Within two or three weeks of starting the pumps every spring, the netting was home to a large and thriving colony of filamentous algae.
In terms of pollution removal, the experiment was to prove equally impressive. Mulbry and his team harvested the algae at between four and 12 day intervals, depending on the time of year and the rate at which it had grown, dried it and then analysed the mineral content that the dry material contained. According to the results, the algal turf scrubbers had successfully achieved 60 to 90 per cent removal of the nitrogen present and 70 to 100 per cent of the phosphorous and at a cost that made this uniquely 'green' process commercially competitive with any of the existing pollution control measures available.
A Novel Twist
The idea of using algae to treat effluents is not a new one; algal-based systems to help clean municipal wastewater, for example, have been investigated in many parts of the world, and while this system is similar in many respects, it also adds a novel twist. As Mulbry explains "we built on that concept and focused on tracking manure nitrogen and phosphorus through the treatment system."
Achieving that in the field is difficult, but the importance of doing it goes far beyond simply satisfying scientific curiosity; it also opens up the way for making good use of the end product – by recycling the minerals removed as a nutrient-rich, organic fertiliser. This part of the work is currently still in its early stages, but thus far at least, the signs have been very encouraging. Corn and cucumber plants grown from seed in algae-boosted potting compost appear to have done every bit as well as those grown in commercial products – and with moves afoot to test poultry manure under the same system, the possibility is beginning to emerge for a range of fertilisers to be produced.
If everything does go according to plan, between pollution control, mineral recycling and biofuels, the future is looking decidedly green – and algal!
You might also like...