Everyday Rubbish & Recycling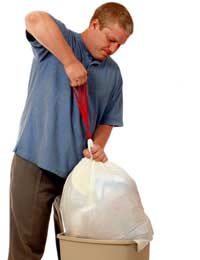 Rummaging through rubbish bags - this is definitely not something to recommend to anyone to do other than your own household but it is a useful exercise in recycling awareness. It is an exercise sometimes performed in schools and community groups to demonstrate how much rubbish is produced and of that, how much can really be recycled. It is for those same reasons a great exercise to bring into the home – particularly if the members of a household believe they are average to above average conscientious recyclers.
Before doing so, read through the other articles on this website to equip yourself with the facts, and also make sure you are up to date with your local area's recycling facilities: what couldn't be recycled several months ago, may now be part of your weekly collection, so stay up to date and informed.
Emptying the Bag
Equipping yourself with a pair of strong rubber gloves (the type used for washing-up are ideal), take your household's main rubbish bag out to a garden or yard. Choose somewhere that is well ventilated and not too exposed to curious neighbours eyes – unless you want them to participate too! If there are several bins throughout the house, collect them all, as well as each member of the household who is responsible for waste, individually and communally.On a large tarpaulin or couple of flattened bin bags, empty out all the contents of the household's rubbish bins and bags. Make a note too of how many days this rubbish was accumulated in – are you looking at a weeks worth of rubbish, a couple of days worth, or longer? Have there been visitors to the house, or a party – resulting in an above-average amount of rubbish produced?
Sorting Through Your Rubbish
Slowly sift through all the rubbish in front of you and sort it into piles. Make one pile of rubbish you defiantly think cannot be recycled – i.e. cooked food scraps, and then make several other piles of possible recyclable objects; paper, cardboard, glass, plastic, vegetables scraps, etc. Using your knowledge about recycling, how much of the so-called rubbish thrown into your household's bin is actually recyclable? Has it been thrown in the trash because of laziness, lack of knowledge, or for any other reason – maybe you don't have separate bins for recyclables, or maybe there are too many options and family members are confused.
Think about the recycling options, inspired by this pile of waste and recyclable objects in front of you. Could the household benefit from having a compost heap or a wormery to deal with scrap peelings etc? Follow the easy instructions for building or buying these on this website.Could some of the cans or bottles be recycled if they were washed out? Don't make water conservation an excuse for not washing and recycling all your glass and plastic bottles, and steel and tin cans.
Has your Local Council provided you with enough information, or enough recycling bins?Perhaps the relevant bins are missing, or haven't been collected recently. Most Councils employ a Recycling Officer who can provide further information, or replacement bins. They should be happy to provide relevant recycling advice and support.
You might also like...