Politics of Recycling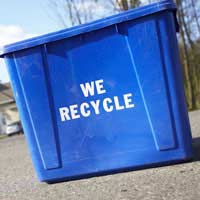 Like all areas of our lives these days recycling and all the aspects thereof, has become a politicized activity, with all sorts of legislation flying around, internationally as well as within the UK, to get people recycling more.
By and large this is a good step, although like the whole environmental agenda, targets for recycling, and issues like local municipal policy against national policy. These often become political footballs for the political parties, that get kicked around when they think the issue is powerful, and if it can be used to defeat another party or candidate. An example of this becoming a ridiculous political issue recently occurred, when a local Council in Wales imposed a fine on a householder who had put the wrong kind of rubbish in one of his recycling bins.
Greater Recycling, Reuse, and Refusal of Packaging
As you'll have read on an earlier page, Generating power from waste, the issue of recycling becomes political when the Government takes the decision to give the go-ahead to a waste disposal company to build an incineration plant. Whatever the valid reasons for this decision, there will be opposition with equally valid reasons. In this case, the creation of another waste plant, this time built to serve most of the inner London population, is said to go against recent initiatives by the Mayor of London and the Greater London Authority, to encourage greater recycling, reuse, and refusal of packaging by the householder.
The argument is that if the Government is simply willing to give the go-ahead to waste incineration plants, and another 20 are planned Country-wide, according to the main opposition group, Friends of the Earth, then this cancels out any impetus by the individual or community group to really recycle.
Recycling Legislation
As well as the case given above, the arena where recycling is really a hot political issue, is when the Government tries to set targets, and put these into law as legislation.
The Government will have arrived at certain targets through various means and proposals – on this issue, agreements drawn up Europe and World-wide during the Earth Summit and the Kyoto Agreement will have been a major influence. The UN-sponsored Sustainable Development Programme is an International standard that tries to lobby Governments for targets and agreements upon reducing waste, carbon emissions, amongst many environmental areas, etc.
Current legislation on recycling targets nationally is varied, and often difficult to pick out, covered as it is within myriad layers of legalese and Government jargon. However, on packaging, the European Union Directive 94/62/EC declared that all member states (of the European Union) must recycle 25 – 45% of the packaging materials normally sent to landfill. This was to include aluminum, glass, steel, plastic, paper and board. The UK Government set itself a low target of 26% by the year 2000. At that same time, by comparison, in 1995 the national packaging recycling rates in Germany were 75%, and in the Netherlands they were 50%.
The UK currently lags behind most other European Countries in its per capita recycling rates, so the Government is trying to catch up by means of pressure and incentives upon Local Authorities, tax breaks for Waste disposal companies, and finance and other support for businesses and community groups that are involved in education and local recycling initiatives.
You might also like...