Reduce, Reuse, Recycle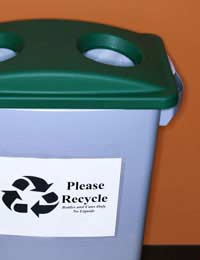 There are three great ways in which you can eliminate waste and protect the environment! Reduce, Reuse and Recycle.
The rubbish that we as a society are producing threatens to engulf us, and that could eventually pollute our earth. These three 'R's are part of the solution; we still must find other ways, both technological and creative, to dealing with waste. On other pages on this website you'll read about some of those solutions, including generating power from our waste, but we still have a long way to go. Respect might also be added before the three 'R's: lets learn again to respect the earth, not pollute it – after all, it's the only one we've got!
Reduce
The first task for all of us is to reduce the amount of packaging coming in to our homes and workplaces. This after all will become rubbish after we have unpacked and used the goods that are in the packaging. With fruit and vegetables, and food in general, we can choose to limit the amount of packaging around the produce.
Supermarkets are now selling and recommending big strong reusable bags, with incentives for not using the disposable plastic bags. Some stores, and the Co-operative supermarket are to be commended for pioneering this idea, and are using bio-degradable plastic bags that decompose when buried in the ground.
Of course, sensible shoppers will already be using their own bags when they go to the shops. Cardboard and polystyrene are the worst packaging offenders when it comes to electrical goods. Cardboard can be recycled, and there are now special bins or skips for this purpose, hopefully to be found at your local recycling centre, or possibly even collected from the roadside by your local Council's collection service. Cardboard can also be composted. But polystyrene is a real pain as there are few options for recycling it currently.
Reuse
Re-using stuff that we would otherwise treat as rubbish, and dispose of without a seconds thought, is a great way to cut down on our waste. This gives the opportunity for creative thinking – what can we do with all these boxes we got our new computer and TV in? How can we use this wood that is our old wardrobe?
One use for old pieces of wood and timber is building a compost bin for the garden. See our page on composting for more information on this. Paper, particularly shredded newspaper, and materials, cut or ripped up, can be used as insulation material for attics etc. Here is where second-hand shops are such a treasure trove of stuff – for clothes, books, electrical equipment, furniture ... if you don't want your old stuff anymore, don't just throw it out, donate it.
And don't forget that if something is broken, say a leg of a chair, or a lamp is missing a plug for instance, many folk can fix these things and refurbish them. So go, either reuse something yourself, or give someone else the chance to!
Recycle
Finally, if the other 2 'R's aren't an option, we can recycle. This is as important as the others – the paper we have just finished reading can become next week's newspaper, or the beer or wine bottle we've disposed of could become a champagne bottle in its next incarnation!
So be fastidious in your collection of disposables for recycling. We have the facilities and technologies in place to re-process many materials, such as paper, glass, cardboard, aluminum and others, so do your bit to stop precious resources being used up and new products being constantly created.
Help stop stuff simply being used once and then dumped – do your bit for the earth and Reduce, Reuse and Recycle!
You might also like...