Questionaire: How Much Does Your Household Recycle ?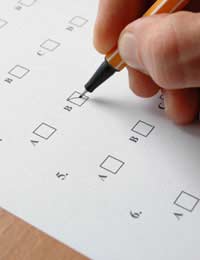 This questionnaire examines how much you and your family or household recycle. It should be used to help you get the maximum from the local resources available, and the aim is to help you slim your bin!Each question has 3 possible answers. Answer it quickly and choose either A, B or C. Add up your total scores at the end.
1 – how many bags of rubbish do you/your family/household put out every week on average?
A:2 bags: Terrible! (0 points)
B: 1 bag: ok, could reduce more. Examine the rubbish thoroughly. (5 points)
C: No rubbish: excellent! You are a top recycler and should be proud.(10 points)
2 – What does your weekly rubbish consist of?
A: Mainly plastic, glass, paper and cardboard. (0 points)
B: A mixture of non-recyclable and recyclable. (5 points)
C: Non-recyclable waste only. (10 points)
3 – How much, if anything, do you recycle each week?
A: Nothing. I don't know how or where. (0 points)
B: A little. (5 points)
C: As much as I/we possibly can. We care about the environment. (10 points)
4 – Do you compost?
A: What's composting? (0 points)
B: We talked about it with our neighbours, but haven't got round to it yet.
(5 points – but don't just talk about it, get on with it!)
C: Yes, with a passion. I/we just used last year's compost in the flowerbeds. I'm passionate about composting. (10 points)
5 - Do you know where your local recycling facilities are?
A: No, no idea. (0 points)
B: Um, I have seen them…. (5 points)
C: Yes. I drop off our glass/paper/plastic every day on my way to work/school. (10 points)
6 – Do you know what pre-cycling is?
A: Is this not buying anything at all? (0 points)
B: I'm trying to reduce the packaging that comes into the house already…. (5 points)
C: Yes. I remove the packaging at the shop and always use my own cloth bags when I shop. (10 points)
7 – Have you reused glass bottles in an unusual or interesting way?
A: No. I throw them away in the rubbish bin. (0 points)
B: No – I put them in the recycle bin and expect they are ground down into new glass bottles. (5 points)
C: Yes, I have used them to make lamps, stored things in them, and even smashed up the glass to make a mosaic…. (10 points)
8 – How do you recycle paper?
A: I don't. (0 points)
B: I put it all into the recycling bin and only buy recycled paper products.(5 points)
C: I use both sides of the paper, and have cut down my paper use. (10 points)
9 – What happens to all our rubbish?
A: Don't know and don't care. (minus 100 points)
B: It concerns me. We should change the system somehow. (5 points)
C: Landfill is a huge problem for our future and the future of the planet. We need to find solutions now, and increase the recycling potential of all the products and materials we make and consume. (10 points)
Scores
If you scored 0 – 35 points, you should take more notice of the recycling options with the waste packaging and products we buy. Recycling is important – for all our sakes.
35 – 70: doing well, but can improve. Check out recycling tips on this website.
70 – 90 Excellent. You and your household are exemplary recyclers! Please spread the word amongst friends and family and within the community. For the sake of all our futures…
You might also like...
this is a brillant website it really help me with my keen to be green project
meggiemoo
- 10-Mar-13 @ 9:29 AM