Recycling Old Spectacles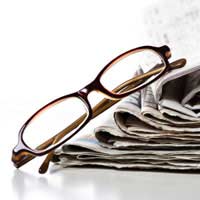 Spectacle-Wearers Unite!
Those of us who wear spectacles, and particularly those who have worn them since childhood, are likely to have several old pairs discarded in a drawer somewhere. The variety of styles of glasses available nowadays is changing rapidly, and as wearers update their fashion item as well as the prescription lenses that are needed to ensure correct vision and good eyesight, pairs of glasses are changed without a second thought.
Sometimes glasses are kept and used for a costume party, or used as emergency frames in which the lens can be replaced if the current glasses are lost or broken, but by and large spectacles become waste objects, sometimes after just a few months of wear.
Some enlightened opticians do collect old spectacles, and take out the tiny screws and nose-pieces for reuse, and keep each old frame in case a customer needs a part replaced and that style is not available anymore.
Preventing Landfill
In order to prevent huge accumulations of once-used objects just ending up in landfill sites and taking eons of time to break down, try to think of creative and fun ways of reusing your old spectacles.Here are a few suggestions to start with:
Save old spectacles for building a snowman every winter
See if any local schools could use them, in art projects for instance
Organise a swap of old spectacles with friends: recycling fashion items, like clothes, can be fun, and it proves that one style of spectacle colour and design can go in and out of fashion
Offer them to department stores with window displays: dressing the dummies up in your old spectacles might result in a store discount
Offer old spectacles to your local charity shop
Re-using Spectacles within the Third World
Recently, more serious initiatives have started that collect old spectacles from wearers in the UK and reuse them in third world countries, giving people with poor eyesight the chance to wear glasses for the first time.
These charity initiatives are a beneficial practical way that those of us in the developed world can help those less well off, in Countries where proper eye care is not available for those without a high income, and also prevent our consumer waste products becoming an environmental hazard.
To find out more about these schemes, ask your optician, or check with charities in your local area. Both opticians, charity shops, and sometimes supermarkets, now have collection boxes for old spectacles to be deposited in, and these are an increasingly common sight on the high street.
Have a look through your old cupboards: if there are any old national health glasses, with thick black frames – the sort made popular again in the 1980's by Morrissey, lead singer of The Smiths; or even last years super chic Italian frames, or even horn-rimmed secretarial spectacles, and they are just sitting unused, taking up space – don't leave them there, or throw them in the rubbish, donate them to a good cause, where they will be worn again with pride and gratitude.
You might also like...
@Ani. Not sure where you're based but all the local authorities we've checked in our area give the option to place spectables in their recycling boxes for roadside collection. Also, as far as we're aware Vision Express will take broken glasses for recycling. VisionAid Overseas is a charity which collects unwanted glasses. In our area Dolland & Aitcheson and Help the Aged also cooperate with a group called recycleformerseyside.com and accepted broken and complete spectacles. Also try the Recycle now and Recycle more websites - they have a search facility where you can find local recycling banks that accept specs.
RecyclingExpert
- 21-May-14 @ 2:11 PM
Hi I am also looking in vain for a way to keep my old reading-glasses out of landfill.Broken ones are not accepted at all the opticians I`ve spoken to. I asked my local council if I should saw off the metal components imbedded in the frames, and they just said no, put them in a black bag (ie to go to landfill). I get through several pairs a year, and that`s just me-- there must be tons of old frames being trashed. Surely there`s a better way?
Ani
- 20-May-14 @ 11:13 PM
must agree with previous comment. Where do I take old specs for re-cycling?
none
- 10-Apr-13 @ 4:16 PM
sorry to be negative, but this article is a waste of time - i read it hoping to find out where i could pass on old glasses to - espcially those that i have already cannablized to get the screws or parts to mend the current ones. (& with a 15 year old who has worn glasses since he was 3, there are a lot of those) but the article says ask your local optician - yes, i had thought of that. A website called Recyclingexpert might have been a little more informative than that...