Recycling Symbols Explained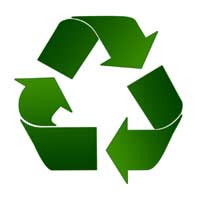 In this time of recycling with the emphasis on recycling waste rather than simply dumping it, it is worth having an understanding of what the symbols on the packaging of the items we buy actually mean.
Aluminium
This symbol is made up from two arrows in a circle - the tip of each touching the end of the previous one - and in the middle the letters ALU in lowercase. Most of the soft drinks and alcohol cans we use today are made from aluminium and it takes less energy to recycle twenty aluminium cans than it does to produce one brand new one.
Glass
Three black arrows that touch tip to tail make up a triangle; in the midst of the triangle stands a small man - nicknamed the Tidyman - who is seen to be placing a bottle in a recycling bin. When it comes to recycling glass most glass can be recycled and you can find at your local supermarket or council refuge site a selection of recycling bins used for collecting green, clear, brown and miscellaneous glass bottles and containers.
Steel
This symbol shows a container being attracted by a magnet; this symbolises that the container is steel and therefore can be attracted by a magnet unlike aluminium. It is worth noting however that the number of packages and containers being manufactured these days in steel is being greatly reduced but there still are a few out there.
The Mobius Loop
The Mobius Loop is not - as its name might suggest - a circle in conventional sense. The loop is made up from the thick green arrows that touch tip to tail in a formation that is more reminiscent of a triangle than a circle. The purpose of this symbol is to inform the purchaser of such products that the packaging can be recycled.
The Mobius Loop with Percentage
As the aforementioned loop but with a figure in the middle; this figure is a percentage that relates to the amount of packaging that can be recycled. This means for example that if the percentage figure was 25% then 25% of the packaging can be recycled while the rest would need to be disposed of. It is worth noting that the use of this symbol is voluntary.
The Tidyman
We have already touched upon a use for the Tidyman logo when looking at the symbol for glass. The symbol for glass shows the Tidyman figure place a bottle in a recycling bin. However with this symbol we see the Tidyman - encased in a circle - place what looks to be paper in a waste basket. This symbol is the uniform symbol for the 'Keep Britain Tidy' campaign and is also used on street signs to signify the illegality of dropping litter.
There are many other symbols that are in use today when it comes to recycling, many of them may not be as well known to you but you can find them printed on the labels of most of the products you buy for use in your home, office or place of work.
For more information you can visit your local council's website where you can find links to recycling sites in your area. Likewise many supermarkets now offer leaflets and packs containing information on the types of symbol used and what they relate to: most of these being produced on recycled paper as well.
You might also like...
Hi. I have a 10ml amber glass bottle with a pipette glass dropper, plastic top, and rubber pump. I got confirmation from the supplier that is everything recyclable except the rubber. What sign I can put on the bottle and how many percentages it should show. Please send me a link where I can get the recycle label from. Looking forward to hearing back from you. Kind regards Brigita
BG
- 23-Sep-21 @ 11:44 AM