What Does the Future Hold for Recycling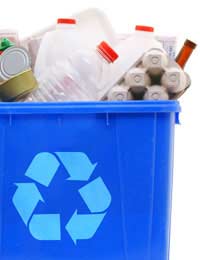 This article explores how recycling items and objects has come into its own in the 21st Centuryand also sets out a vision for the future of the world of recycling: both a possible direction and an ideal direction. If the need to recycle the things we use and do not need any more becomes a compunction rather than a compulsion, i.e necessitated by laws and enforcement, creativity and creative thinking 'outside the box' will flow, and technology and human ingenuity will be partnered in this common endeavor. Lets hope this is the way forward and humans recycle in this spirit.
'Not Thrown Away' : Saving and Hoarding Objects
Many of the older generation living around the UK know the feeling of having 'gone without', be it growing up poor, or in the lean war years, and of simply living in a time when there weren't so many goods available, be they different types of foods, clothing, electronic goods, etc; all wrapped in many layers of protective packaging. Talking with people in their 60's and older, you get a sense of how quickly the UK has grown economically, and how one of the downsides of this is the amount of 'stuff' suddenly available to all the Country's citizens. This generation will also tell how how much they dislike getting used to increasing amounts of rubbish. Some of this generation, just through habit, find themselves collecting an 'Aladdin's cave' of objects: glass jars (Nescafe jars), plastic bags of all sizes and colours, foil, rubber bands, string, and cardboard.
'Making the Best Use of Things, or Reusing': Creativity and Recycling
This list of objects above can all easily be put to use again: for saving seeds, or nails, for wrapping things in, for protecting objects or for temporarily patching up holes in glass, or protecting against paint being spilled........the list is endless, but so is unfortunately the amount of objects coming at consumers that are designed as being disposable. Plastic is on one hand the greatest invention of the Century, but also one of the worst – being bad for the environment and so slow to degrade.
The Use of Technology in Recycling the Objects We Produce
Technology is often one step behind the need for it: innovators struggle to get their technology out into the marketplace – often it is too expensive initially (for example: the plastic incineration plants are so expensive, the UK has for many years shipped our plastic waste abroad), or met with skepticism. The solar power and wind technology industries have both met with accusations of high cost and expense, which have held both back from developing their potential much earlier (and therefore benefiting society by replacing fossil fuels as principal sources of energy).
A vision for a world where recycling is commonplace. If more time and energy is given over to recycling, less of everything will be produced.
Recycling, as well as environmental damage, is the most effective lobby against unnecessary mass production (of everything). If all the glass that we used can be recycled into shiny new glass objects (as it can),and all the paper we surround ourselves with daily can firstly be reduced, and then repulped back into second grade paper, then we need to cut down less tress – regardless of whether the forest was grown for paper production or not. If all the steel we use in cans and cars and planes and girders can be smelted down a second and a third and a fourth time, and produce more of the same, then society is on its way to consuming less.
Recycling, and using less, is first and foremost a mindset that needs to be inculcated into a society that sees and understands the value of resourcefulness and thrift. Using the powerful facts of environmental damage and climate change underpin the need for all of us to live a greener lifestyle, making changes where we can, and also communally envisioning a brighter future for us all.
You might also like...