The 4th 'R' Repair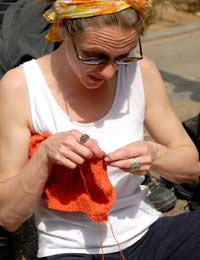 As the articles on this website emphasise the possibilities to recycle many items we use everyday are increasing. From plastic packaging through to computers and white goods, opportunities now exist to recycle these objects either into the same object in a modified form, or into something else entirely.
These are initiatives we should support, as well as coming up with ingenious ways to recycle things ourselves. One of the ways we can all do this, is by simply mending things. A current slogan pioneered by the green movement is 'Mend the World'.
Keeping Things Going for Longer
One of the most important ways to recycle, often overlooked and sadly missed out of the three R's slogan, is that of repairing things. This is a skill many older people know well, due to the scarcity of goods during the war and post-war years.
Repairing is now catching on again with the current generation, as being thrifty finally seems to be seen as fashionable! Fishermen know well the art of repairing their nets years in year out, thatchers repair roofing thatch to keep older buildings secure and dry, and many people really do know some basic repair skills, and can patch-up small faults on cars, and within homes.
Repairing Everyday Objects - Clothes
The most well-known example of items that are relatively simple are clothes.Putting a patch on some jeans or a jumpers elbow, darning socks, these are some of the simplest repairs that most of us have experienced, if not done ourselves.
At the other end of the scale of adventurousness - how about unpicking a jumper apart and knitting it into something new! There is a resurgence in knitting in the UK - all department stores have exclusive knitting franchises, and some very funky wool shops are on the high street. As well as selling wool, needles and all the other kit a dedicated knitter needs, they will also inspire you to reinvent, recycle, and repair the clothes you currently wear! Failing that, in most neighbourhoods and communities there will be a knitting and clothes repair service that can help you wear your beloved item, be it a jumper or a ballgown, for years to come - look for adverts in your neighbourhood shop windows, or ask at a dry cleaners.
Don't Throw Away - Repair it!
Next time you think about throwing something away because it seems slightly worn, chipped, or damaged in some way, consider if a repair would be sufficient to persuade you to keep it for longer. Ceramics can be easily repaired (If you keep all the pieces together!) with readily-available ceramic glue, as can wooden objects. Check out your local hardware shop for various glues and repair products - they are often an Aladdin's cave of interesting and useful stuff, and the staff often give great advice too. They can often advise if an object is worth repairing, if you have any doubts.
Electrical goods need to be repaired and checked by an expert. Do not attempt to repair these, but do keep them in good order and these essential objects will last longer, and perform well for us.
Become a Repair Expert
There are often repair courses at local education centres. Look at repairing objects as a skill worth acquiring and invest time and energy in learning how to keep things working and useful for longer. There are internet resources available, as well as many books available on repairing specific items. Become an expert, have fun, keep your items and treasured wearable and useable for longer, and inspire others.
You might also like...
The best way to start repairing is to gather together with other people with repair skills and help each other. The Restart Project is just one of many groups in the UK hosting community repair events: http://therestartproject.org/global-map-of-repair-groups/
The Restart Project
- 3-Sep-13 @ 2:54 PM
Well said, but we are rapidly approaching an unfortunate situation where we are rendered totally obsolete due to the fact that computers are designed and manufactured by computers.
Thechaos
- 1-Sep-13 @ 4:37 AM