What is Recycling?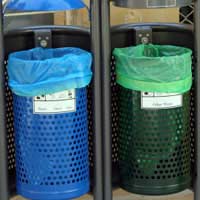 Recycling is what we do with the objects we use in our daily lives. Recycling is ultimately a creative act that involves thought and dedication to extend the life and usefulness of something that seems to have no more purpose once it has been used for its initial purpose. Common objects that are often used only once are plastic containers, glass bottles, and newspapers, but as this website will show, most, if not all things can be recycled somehow, and it is only our perception of our lifestyles and the ease of disposal that prevents all of us using the creative and technical abilities available to recycle everything we dispose of.
Why Recycle?
The short answer to this question is why not. Why do we in the 21st Century take it for granted that everything we purchase come protected in so many layers of disposable material? Everything we dispose of goes somewhere, although once the container or bag of rubbish is out of our hands and out of our houses we forget it instantly. But our consumerist lifestyle is rapidly filling up rubbish dumps the world over.
Digging big holes and chucking in tons and tons of rubbish on a daily basis is no solution. Who wants a rubbish heap on their doorstep? But the more householders' dispose of packaging, the more we have to expand our municipal dumps, which often have to expand into agricultural land or green belt land. Waste disposal experts are certainly coming up with ingenious ways of dealing with the increase in consumer waste that this century has seen, but ultimately we have to tackle the problem at the root: each and everyone of us.
At a Dump – a Cautionary Tale
We highly recommend the experience of taking a tour of a local waste disposal facility. This is different to a reclamation centre, which will be described in more detail on a later page on this site.
A waste disposal facility is essentially a dump – just that, where end of the line rubbish is dumped and somehow treated, in order to speed its breaking down and dispersal, usually in the ground, or sometimes in incinerators or other storage facilities.
The common method is to bury rubbish, in a vast deep pit, which might be lined with plastic. When the pit reaches maximum capacity, some millions of tons of detritus, chemicals including lime are poured in to speed the process of breakdown up, then it may be sealed, and covered. The modern means of operation is to then return the site to some kind of agricultural use. This has varying success, depending on the chemicals used and the composition of the rubbish, all of which will leach into the soil. The rubbish is always going to be in the ground, and if this is our means of dealing with waste, we then must move on and find land in which to dig more pits.
The experience of walking across a vast expanse of rubbish is a sobering one. A site often doesn't smell as strong or as intense as you might expect, but standing upon such regular household stuff as old shoes, cans, and the inevitable plastic, and knowing that the pile you're standing on is a deep one, is a tough exposure to our culture of disposal.
You might also like...
I am a food manufacturer who wants to use the recycle logo on my product packaging. What is the law on the use of the recycle logo?What proof is needed to be able to use the logo? Is a specification from the supplier of packaging sufficient to be able to use the logo or do we have to be approved in our own right?
Suzanne
- 9-Sep-19 @ 3:21 PM