Water: The Ultimate Recycled Material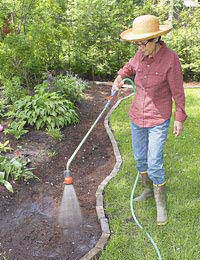 Water is the ultimate recycled material – from precipitation to evaporation water undergoes several cycles of life. We have cleverly developed many techniques for the use and re-use of water, and equally too, have allowed many water systems to become polluted, due to industrial accidents, or other reasons. Taking care of water and water systems is crucial for the survival and flourishing of the environment, and for human survival too. Water affects every aspect of our lives, from the food we eat, cleaning, lubricating machinery and cooling, through to our leisure activities. Lets all learn what we can do to preserve and look after the precious water stocks we have, for our own sakes.
Water Recycling in our Home
Tips for saving water firstly, include fixing leaking taps and water pipes. Turn the taps off in between rinsing plates, or when brushing your teeth. Gallons of water are wasted annually through not turning the taps off when the water is not needed. If you have a dishwasher in your kitchen, make sure it is energy efficient (marked with an A rating, ideally), and always use economy settings. Soaking heavily encrusted plates and dishes will reduce the need to use other settings.
Do take showers instead of bathes. This greatly reduces household water use. Consider fitting an eco-flush setting for the toilets in your house. This small device measures a smaller amount of water used in the flush, and is necessary by law in some countries that have limited water supplies.
Putting a large, heavy object in your water cistern, such as a plastic bottle filled with water, will save on the amount of water used in each flush, also.
A UK University has recently developed an innovative washing machine that uses recycled water coming through its system. Hopefully this will be available on the domestic market soon. If you have ever been in a country in the developing world where the weekly laundry wash takes place in the local river, you'll understand how wasteful of water we in the western world are.
Water Recycling in the Garden
Even though our plants, trees, lawns need water, lets be sparing with it! In most of the UK this past summer, a hose pipe ban was in place. We can avoid drawing precious supplies from the mains system by having a water butt to collect water. This can be placed under a drainpipe, to collect runoff from the house, could be used in a broader system of actually reusing water used inside the house, or just freestanding. The UK enjoys a general high level of rain, so there is a virtual guarantee that with skilled use and placing of one or several butts, most gardeners can look after all their garden needs from the judicious use of waterbutts alone.
Watering in the early morning or evening will reduce the loss and wastage of water through evaporation.
Other Ways of Recycling Water
There is a UK Rainwater Harvesting Association that has a variety of rain harvesting systems that can be used at home or in businesses. Also, many people are now investing in roof gardens, which as well as being beneficial to house insulation, can be created with water recycling systems directly from the household water. Other options include a large or small-scale community water filtration system, such as the 'Living Machine', which is in operation at the Findhorn Foundation, North-West Scotland, uses plants to filter water, and recycle it for household use many times.
Be creative and determined in your mission to save, and re-use water, our most precious resource!
You might also like...