How Drinking Water is Treated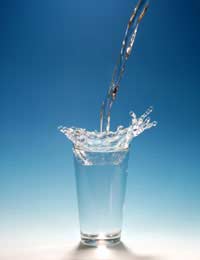 Water; turn on the tap and it flows. In a country as well provided with water as Britain – no matter how much we may moan about the rain – it's all too easy to take our ready supply of clean tap water a bit for granted. Even when we are all too well aware of the dreadful shortages that blight the lives of so many – around one billion people around the world have no access to safe drinking water – we often give little thought to all that's involved in bringing us our own.
Preliminary Water Treatment
In the UK as a whole around two-thirds of our water supply comes from surface sources – rivers and reservoirs – while groundwater makes up the rest, though the actual picture varies between the different regions of the country. In London and the south east, for example, groundwater makes up over 70 per cent, while the Glasgow area is largely supplied by water drawn from Loch Katrine.
Generally, the first process this untreated – or "raw" – water goes through on arriving at the water treatment plant (WTP) is screening, quite literally passing through a huge metal gate which acts like a coarse sieve to remove large floating objects from the flow.
Obviously this still leaves a whole range of small objects and other impurities in the water, and so to remove them, the incoming water is dosed with flocculant – a chemical treatment designed to act a bit like a magnet to attract and remove this residue, which includes bacteria and silt particles amongst other things. The process of flocculation leaves the mixture of chemicals and impurities clumping together to form a jelly-like substance, known, rather unsurprisingly, as "floc".
Clarification and Filtration
The next step is to get out the floc and this is done during a stage known as clarification – which takes place in units known, for obvious reasons, as clarifiers. There are two basic systems used to achieve this. Older WTPs tend to use a process of sedimentation, allowing the water to stand for a time in the body of the clarifier until gravity does its bit, and the floc naturally sinks to the bottom of the tank. More recently, the use of dissolved air flotation (DAF) has become increasingly popular – an approach which works in almost exactly the opposite way. Bubbling air through the water makes the floc float to the surface, where it forms a blanket of jelly that can be removed by rotating scrapers on the clarifier.
Once the water has been clarified it flows through large vertical filters to remove any remaining floc and other traces of impurities. The filter beds themselves are large and are typically dual-media systems made up of layers of sand and either gravel or crushed anthracite – or sometimes granular activated carbon – with the water being cleaned as it trickles down through the gaps between the particles.
Ozone, UV and Chlorine
The addition of chlorine is a well known final addition to drinking water and a time-honoured way of ensuring that the water travelling along the distribution pipes to your home remains clean, fresh and bug-free as it does so. Some water companies are increasingly making use of other ways to sterilise and disinfect supplies, including UV-light and ozonation. Garden pond enthusiasts are well aware of the value of ultra-violet light in keeping pond water in good condition and free from algae and the same general idea applies to drinking water too – the only real difference being that the UV units at WTPs are considerably more powerful.
Ozone which, as a particular form of oxygen, is a powerful oxidising agent, is especially useful at removing traces of pesticides and similar chemical compounds that may be present in the water. Treatment plants which bubble this gas through their treated water tend to be the ones with activated carbon in their filters, since it is very effective at removing ozone by-products.
We are fortunate to live in a country where not only is there an abundant supply of fresh water, but also there's a whole industry working to rigorous standards to ensure that the water gushing from your tap is as clean and wholesome as possible. In the global context, it's a privileged position, which makes it doubly important to recognise all the work that goes into achieving it.
One thing's for certain; although we may all hate it when it rains, there's no getting around the fact, we'd be in a right old state if it didn't!
You might also like...