Composting as a Community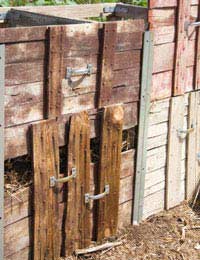 Community composting is a group of people taking their household food waste to a central point where it is composted, and the resulting fertiliser is shared amongst the group. This has the advantage of not having to work with a compost bin on an individuals property, and the manual work of building it and turning it every so often. Also, many of the community might live in flats and have no space to keep a compost bin (or the inclination to create a wormery).
Other advantages include being a resource to encourage people to compost, who might never have considered it, thus becoming an educational resource about sustainable living for the area.Also, as the case studies show, producing the end product can be a small business venture, selling the fertiliser off and using the income as salary or profit.
Case Studies from Across the UK
The Community Composting Network (CCN)
This National organisation, based in Sheffield, supports and promotes the community management and use of waste bio-degradable resources. It supports and helps to establish community initiatives, and promotes community composting at a national level, both to the general public and to Government. It has a network of 230 members, and produces guides, newsletters, and has an annual conference. Two of the projects the CCN is involved with are detailed below.
Fairfield Materials Management (FMM), Manchester
This is a unique system in that it is a social enterprise initiative, and that it operates in the heart of a busy daily wholesale fruit and vegetable market, in the centre of one of the Uk's largest cities.
The project has 6 vertical composting units (VCU) with a capacity to process 3500 tons of material per year – this creates initial compost within one week, which is then left for a further 4- 6 weeks. Approximately 1500 tons are produced a year. The final product is supplied to parks in the Manchester area, as well as householders and allotments. The project supports 9 full-time employees, as well as sustainably recycling the daily food waste from the market community.
The East London Community Recycling Project (ELCRP), Hackney
On the Nightingale Estate in Hackney, a visionary project receives household food waste from 10 estates, and through the use of mechanised composters, turn it into high-grade compost within a fortnight. The composter, or 'the Rocket' as it has been named, heats the compost to 60 degrees Celsius, and constantly turns it to maintain aeration. The project actually changed a piece of Government legislation with its invention – proving that household food waste could be safely composted under these conditions, using naturally occurring bacteria. The ELCRP collects the waste from resident's doors – no mean feat when you consider that many estates have high blocks of flats, and provides them with green sacks to fill. On the Nightingale estate alone, it is estimated that resident's participation rates are around the 85 % mark. Side projects include rejuvenating local gardens, a shop where residents can donate or exchange their unwanted household goods, and a community computer workshop.
Get Your Community Composting
There are many other examples across the UK; the Devon Community Composting Network (DCCN) oversees 26 community composting projects in that county alone. Look out for a scheme in your area. The local Council should have information about any schemes operating within its district. It can be fun, sociable, provide business and enterprise initiatives, and above all, keeps our household food waste out of the landfill. Get composting!
You might also like...