Ways to Reduce Packaging and Household Waste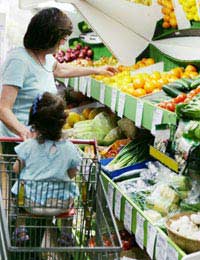 As well as learning what can be recycled where to recycle stuff, and what the recycling process entails, it is important to take a step backwards and look at your shopping patterns and examine the types of products and their packaging that is coming into your home.
The Key to Recycling
The phrase 'Slim your Bin' is a great advertising slogan that really gets the message home. Think about the type of products you purchase regularly that have the most packaging – is it food, or clothing, or consumer electronics? Is it plastic packaging, or cardboard? How much of this do you throw away on a weekly, monthly, and annual basis?
Looking at the longer term amount of waste we all throw away should frighten us all into action!
An Easy Step: No More Plastic Bags
Now that NASA has recently announced it has seen plastic bags floating in the outer hemisphere, it is time for all of us to call a moratorium on these polluters, however handy they are. Ireland has led the way in weaning consumers off them by applying rising charges to plastic bags at the supermarket checkout. This bold move has been seen to be working, and must be applauded and applied elsewhere in the western world. Hemp, canvas or cotton bags which last a long time are becoming popular again. See if they are available at your health food store, or make one yourself from some old clothes or disused material.
Be a Refuser!
The Womens Institute and the UK's first environment minister have called for packaging to be left at the supermarket, consumers have carte blanche to take up their rights and make a stand.
It is only in the last 10 – 15 years that shop-bought products, mainly food, come neatly sorted in plastic trays, draped in clingfilm, or covered in and protected by plastic wrap of some sort. Food bought directly from farms or at the roadside can be bought without any wrapping; why not the same way at the supermarket, or at a small local grocery store? Start taking a stand against packaging: always be polite yet firm, and explain to the supermarket staff that the less packaging waste their store produces, the less we put into landfill, and the less pollution our environment suffers. Prepare yourself with facts, and join the anti-packaging revolution.
Cardboard
Keep cardboard boxes in good condition, and keep reusing them instead of collecting new ones.
Donate Materials to Recyclers
Look around your local area for any small-scale enterprise that is recycling old materials into new objects, be they functional, or art pieces. There might be an artist working nearby who always needs newspapers, or a small company that recycles rubber. A local school in your area might well need paper, plastic sheets, or old paint or similar materials.
Reduce, and Rejuvenate
The regular turnover of rubbish in our houses is a drag. It creates mess, constant cleaning, expense, and of course, is bad for the environment. Whether we suffer from the consequences of environmental pollution now or in the longer term, us or our children and grandchildren, will at some stage see the effects of such short term thinking. Think bigger, and think about the future. Such thinking will cause us all to reduce our waste, and rejuvenate our ways of living.
You might also like...