Eco-Schools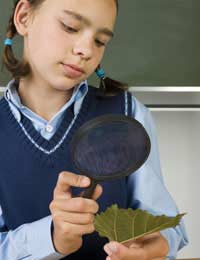 Sustainable education in the UK's schools is a new initiative seeking to turn the country's schools and our kids greener.The Eco-Schools project, run by the environmental charity ENCAM, and supported by a wide range of partners, including DEFRA, HSBC bank, Currys, The Woodland Trust and The national Trust, is a programme that offers each participating school a framework toward sustainability.The programme is based around pupil involvement, and encourages effective participation in the greening of the school environment, with the future goal of encouraging effective and responsible environmental citizenship.
How does it work?
Each school opts into the registration process. This allows access to the network of schools across each Local Authority area (LEA) and each region, to hear about new ideas and work within the programme. This network also allows access to grants; for example the electrical retailer Currys sponsors energy-saving grants, and another grant is available for schools setting up walking bus schemes, which cuts down on fuel-use and car congestion when kids are dropped off and collected from school. There is also an award scheme which is intended to raise the schools green profile within the local community.
How is it Working?
So far, as of may 2007, 27% of schools in the UK are signed up to the programme, which is roughly 6,000 primary and secondary schools out of a possible 22,000. In the Cambridge LEA alone, there are 23 schools, including a private 6th form college.
Recycling on the Agenda
Recycling is a big part of the programme mission. Each school is asked to concentrate on its immediate environment, and assess its community recycling efforts. Recycling bins are available through the programme, and an emphasis is put on learning about the entire process, from production, through consumption, to how an item can be recycled, and the life cycle of this process.
Whenever possible, field trips to local recycling centres are arranged, as well as the input of local experts given in the way of talks and presentations.This naturally has a great knock-on effect at home, with each child going home and encouraging their parents to live these greener values too. Many parents are starting to recycle and compost after their child has started participating in the eco-schools programme.
Other Action and Benefits from the Programme
The programme explicitly aims to alter a schools ethos, through integrating environmental and sustainability issues in every decision made, and every class and every activity.
Every child has the potential to participate as much as they wish to, and to engage with creating an environmental curriculum in their own school. This might involve project work on energy saving, carbon credits, recycling issues, or alternative energy production. This can give the opportunity to raise personal and school-community achievement, thinking skills and learning styles.
These benefits and skills will naturally filter through the local community, with parental interaction and community support for the school. School fetes and summer fairs are now likely to be green-themed, with electricity supplied by the schools wind turbine, and all the waste left over either composted or crushed and recycled.
Schools in the scheme will have the potential to save money through cutting energy costs, and will be able to attract a range of green grants for various schemes. There is also access to a range of support agencies, for example, staff at HSBC bank in Sheffield have become volunteers for the programme, and regularly visit 23 of the local schools, offering practical help.
Get Involved!
Find out which schools in your area are involved, and find out how you can help. You, the kids, the school, the community, and the environment will all feel the benefit.
You might also like...