Recycling Metals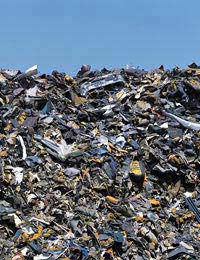 Scrap metal falls into two types – ferrous and non-ferrous. Ferrous metals which are iron and steel are the most recycled material worldwide. In 2006, an estimated 69 million tons of ferrous metal was recycled in the USA alone. Ferrous refers to the compound of iron.
Non-ferrous metals, such as aluminum, copper, lead, mercury, brass, lead, and gold and silver, are less recycled, apart from aluminum, and gold and silver, for obvious economic reasons. Unfortunately in the case of metal recycling, it is largely on the economic value of the metal as to whether the facilities are developed and invested in that will be able to recycle them.
The Environmental Impact of Metals
Unfortunately, producing any type of metal has a detrimental effect upon the environment, whether those effects are felt within the landscape immediately through mining, or from the effects of the chemicals that are used in metal production having a longer-term impact upon water supplies and soil.
To produce steel, pit mines need to be built, which disfigures a landscape and can cause pollution through fumes and transportation. To produce aluminum, surface mining uses vast quantities of poisonous chemicals, also scars the environment, and damages the area for many years.
Metal: 100% Recyclable
Despite the negative impact of producing metals, all metal can be recycled without losing its essential core property. Because of the environmental impact of metal production, we should be using all our ingenuity and resourcefulness to minimise further metal production and recycle the scrap sources we already have. This also makes economic sense for the metal industry too, as we have the furnaces and other necessary resources already in place. Using recycled steel and aluminum as a primary material changes our way of thinking about waste. Brass too is increasingly recycled and re-cast. Check your local hardware store to see if the taps they sell are recycled brass. If not, encourage them to sell more recycled metal products.
Practical Steps we can take to Recycle the Metal we Use
Recycle your car: selling a car on (or exchanging) is recycling, but if you are clearly going to be the last user of the car, find a junkyard or specialist car scrapper that can remove all the reusable parts.
Steel: check with your municipal Council about steel recycling facilities in your area. Steel cans can probably be recycled locally at the recycling centre, but many councils have been slow to include steel cans in the kerbside collection. Check if aerosol cans can be included.
Look for recycled metal products: the brass taps mentioned above are just one example of the increasing supply of recycled metal products available on the consumer market these days. There is a musical instrument available in some music shops that is exclusively made from scrap metal parts sourced from guns and bullets!
Remember that we as consumers have purchasing power – if a supplier or a store doesn't stock products made from recycled metals, including food stored in recycled steel cans for example, we can withhold our spending until they do. It is in the environments interest that we recycle our metal.
You might also like...
This was really interesting and helped me understand different ways in which metal can be recycled, one question though: how can boobs be recycled?
thatguycalledHESKEY
- 14-Jun-14 @ 10:47 AM