Recycling Clothes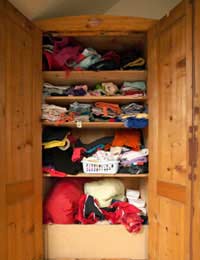 It can be hard to part with a favourite but rarely worn jumper or pair of jeans but the huge array of charity shops in every town and city means that any item of clothing you are willing to part with will eventually find a good home. Charity shops or secondhand shops are a great place to pick up a bargain, and by passing on used clothing you'll know you are performing a great altruistic act. And you might pick up something yourself!
Donating Your Clothes
Many of the larger charities distribute collection bags to whole neighbourhoods, with a collection schedule or a telephone number printed on it to arrange collection. This is an easy way to clear out clothing, and have it picked up from your doorstep. Check whether any church or community groups are having any jumble sales in your area – this is a great way to give back to the local community.
Always make sure any clothes you donate are clean and wearable. If items are ripped or simply too worn out, then they can be recycled in other ways. Clothes don't need to be ironed or pressed, but simply folded.
Do match shoes up by tying the laces together. Don't make charity shop workers despair at a pile of single unsellable shoes!Sheets, bed linen and blankets are also very welcome.
Increasingly, some charities are placing large collection bins for clothes, as well as books and other clean household items, at local recycling centres.
Recycling Textiles
Clothing items that cannot be sold on or repaired can go through another recycling method. This involves collecting post-industrial waste, cloth and scraps left over from fabric and garment manufacture, and post-consumer waste – used clothes and other household textiles. All the fabric is sorted according to type, colour and grade, and then shredded into fibres. The product, known as shoddy, can, if it is of a high grade, be mixed with new fibres and then spun for weaving or knitting. At this stage, designers and manufacturers are also stepping in and making clothes from this product, making a virtue out of its recycled nature. Look out for these recycled products in the high street. Low grade shoddy can be used as carpet underlay, padding for mattresses and stuffing for cushions, amongst other uses.
This process of recycling cloth, textiles and fibres reduces waste being put in landfill sites. Due to the ease and creativity of this process, recycling of such materials has been in place a long time, and a culture of easy disposal of clothes has not developed, as it has with other materials mentioned on other pages here, such as plastic, glass and paper.
Recycling cloth and textiles saves energy and reduces pollution that would result from transportation and particularly the dyeing and colour fixing processes applied to new, raw cloth. In particular, recycling really helps in this case by saving water, which is used in large quantity to wash and treat raw cloth.
Have fun – recycling, reusing, and re-wearing clothes!
You might also like...
Hi, Like the comment from 'Moose' I would really like to find out how to recycle corporate clothing that has logos on it. It cannot be reused and it would be great if we could recycle them somehow. Thanks
Almcuk
- 5-Aug-13 @ 4:28 PM
We have a large quantity of sweatshirts and polo shirts that need to be destroyed as they have a logo on them is there anyway we can recycle them securely and have a proof of destruction?
Moose
- 9-Oct-12 @ 4:06 PM
I run a tailor shop and every week I accumulate lot of new cutpiece cloths. Kindly advise as to how to dispose of such cloth pieces.
sampath
- 26-Sep-12 @ 8:15 AM
I have lots and lots of leftover fabric that I wanted to recycle, I was hoping to sell it on to give my kids the profits, but everyone that buys only wants clothes. I guess this is to sell on. Can you advise me on where I can sell my fabrics, as its now taking over my porch.
busymum
- 28-Sep-11 @ 7:45 PM
I love your website because it helped me so much.
joluis
- 14-Apr-11 @ 7:50 PM