Generating Power From Waste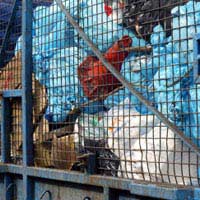 Dealing with the huge amount of waste being thrown into landfill sites on a daily basis and exploring the growing need to find new solutions to the massive consumption of power and energy in the western world, are two areas scientists are examining right now. With the first problem, coping with waste, educating the public to use less and recycle more is the first part of the solution, but that still leaves the problem of what to do with the waste we already have? And wouldn't it be worthwhile to try to tackle the second problem, the dwindling energy resources of coal, oil and gas, and the increased need for power and energy in the world, at the same time, by combining both issues and seeking one solution?
Below are two potential solutions to this problem, in real time case studies.
Case Study One: Power From Pig Waste
A series of 31 projects in Mexico that generate electricity from utilizing pig waste have been developed by scientists working internationally. Pork production has increasingly been shifted to developing countries, and Mexico has become a major producer.
Dealing with the huge amount of waste has become a major issue there, as has the consumption of oil. Methane gas can be recovered from the waste, and used immediately as energy, or stored. These projects successfully utilize waste, reduce the Mexican reliance upon an extremely stressed national power grid, and have a further range of environmental benefits. These include a decrease in national greenhouse gas emissions, improved air quality, an improvement in waste water quality, and then the potential for the waste water to be used for agricultural irrigation.
Case Study Two: Plasma Gasification
A UK company is pioneering a new energy-creation technique called plasma gasification.
In this process, fuel or waste is fed to a reactor vessel, in which an electrically-generated plasma is present. The temperature needs to be at 20,000 centigrade. The waste reacts with this plasma, and is broken down into very simple molecules of either hydrogen, carbon monoxide, carbon dioxide, water vapour, or methane. These molecules flow to gas cooling or cleaning equipment. Ash and other materials that remain, such as metal residue, are dealt with at the bottom of the reactor vessel.
The created gas, after further cleaning, is most suitable for use as a fuel for further power generation, or as a feedstock for chemical processes, such as methanol.
The UK's Largest Waste-Fuelled Power Station: A Good Idea, or Not?
In June of 2006, the UK government gave its approval for the creation of a large waste-to-electricity power plant on London's South Bank of the Thames in Dagenham. The plant, to be run by Riverside Resource Recovery, a subsidiary of waste disposal company Cory, is scheduled to begin operating in 2010, with an estimated burning of 585,000 tons of rubbish annually. This comes after 16 years of planning and 2 public inquiries. The justification for the sitting of the new plant is that the waste will be brought in along the river by tugs and barges, saving 100,000 lorry journeys.
However, opposition to the plant states that the decision to build it gives less incentive to recycle, and doesn't tackle society's behaviour toward waste. Further questions exist about the large amounts of climate-changing carbon dioxide that the plant will emit.
You might also like...
Always looking for good cheap power supplies, Recycled waste saves digging up our land
Chris
- 28-Nov-13 @ 11:49 AM