Methane and Leachate: Landfill Problems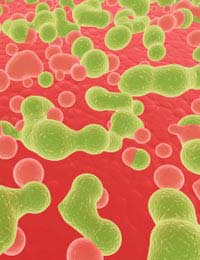 As anyone who has ever left something languishing forgotten at the back of the fridge for a little too long knows, biodegradable waste certainly lives up to its name! While that results in a bit of a smelly kitchen and moment or two of mild embarrassment, multiply that up to the 8.3 million tonnes of food waste that we in Britain throw away each and every year and you're faced with an altogether more serious problem.
Although the huge upsurge in composting – both council schemes and by households themselves – has had an enormous impact on the amount of all forms of green waste that is recycled, a substantial amount still ends up simply being landfilled, and that's where the real problems start.
Methane Production
When biodegradable waste breaks down naturally in the air – whether that's in the back of your fridge or in a properly maintained compost pile – the organic material it contains is changed to simpler, inorganic chemicals by a range of bacteria and other micro-organisms. It's technically known as an aerobic process, the bugs involved are called aerobes and carbon dioxide is the main gas they give off.
Take the same waste material and bury it several metres down in a landfill site, however, and everything changes. The conditions here are anaerobic – lacking in oxygen – and unsurprisingly, it is a group of microbes known as anaerobes that are involved in decomposing the waste this time; they go about the task in a completely different kind of way. The organic matter is still broken down into simpler chemicals as before, but now what's given off is a near 50:50 mix of carbon dioxide and methane – known as "landfill gas."
From an environmental point of view, while liberating carbon dioxide is bad enough, factor in the fact that methane is perhaps as much as 30 times more damaging as a greenhouse gas than the equivalent amount of CO2 and the scale of the problem becomes clear. Add to this the varying amounts of hydrogen, ammonia and hydrogen sulphide in the typical mixture and you're left looking at a massive underground reservoir of acidic, corrosive, explosive and thoroughly nasty gas.
Using Landfill Gas
Fortunately, however, it's not all bad news – though you'd be forgiven for thinking otherwise! The modern waste management industry is a very technical one and today's landfills are a million miles away from the old idea of just bunging everything in a hole and then burying it. Predicting where and when landfill gas will form and installing the means to collect and extract it now forms a very large part of building any new landfill and by law sites must at the very least flare the gas they produce to burn off the methane.
Many go even further, burning the landfill gas in small generators – known as gensets – using the electricity and sometimes the heat too, to meet on-site needs, while some waste management firms have even been working on turning the gas into a fuel for their vehicles.
Leachate
While the gas issue is a fairly well-known problem for landfills, the difficulties posed by leachate tend to be a lot less familiar.
Although the newly deposited waste is compacted and covered with an inert layer of soil on a daily basis, a landfill site is not a totally solid thing, which inevitably means that water can percolate through it – albeit quite slowly. Just as rivers pick up minerals from the rocks and soils they travel over, so rain water working its way through a landfill will collect chemicals from the rotting waste as it goes. A typical landfill contains all manner of types of wastes, collected over a decade or more of operation, which means that all kinds of chemical reactions are quietly going on below the surface, producing any number of different chemical substances in the process. It's pretty clear that not only is it going to be virtually impossible to know exactly what the water can pick up but also, given the range of things that get thrown away, there's a good chance that much of it will be pretty unpleasant. This resulting chemical cocktail is leachate.
In the bad old days of waste management, it was not unknown for leachate to contaminate groundwater which was an obvious environmental and public health nightmare if ever there was one! Today, however, sites are lined with an impermeable barrier, making them rather like a giant garden pond, to ensure that the leachate cannot escape and pipes then take it as it collects to special treatment facilities to comply with modern pollution regulations.
Between changes in legislation and the huge upsurge in composting and recycling, the waste management in general and landfilling in particular, has undergone a major step change over recent years. Although the legacy of previous decades will ensure that methane and leachate will remain potential problems for some years to come at long-standing sites, things are definitely getting better – and that has got to be welcome news for everyone.
You might also like...