Purchasing Power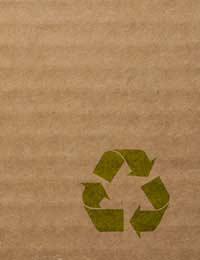 Most people are now aware that recycling household waste will help the environment by saving natural resources and reducing the amount of waste for disposal. However, less people make a conscious effort to purchase products made from recycled material.The real key to the issue of recycling is seeing that consumers really do control the marketplace in terms of supply and demand for goods and services.We can choose where we buy our goods, and the way in which we buy them.
Taking the example of food, other than growing or rearing the food we eat ourselves, the purchasing choices we have range from a small local store to a big out of town superstore, from a market, or even direct from the farmer. For most of the buying public, it is often mainly an issue of time – busy lives balancing work and children often means our shopping and mealtimes are rushed. They become chores, rather than thought out shopping trips and pleasurable cooking time, hence the rise in ready meals and re-cooked TV dinners (that come encased in easily disposable plastic).
All these choices further affect the amount of packaging that surrounds the food that we buy – how much packaging there is, and what type of material it is made from. Plastic of course is the real demon, as there is now so much of it, and the means to recycle it is more limited than other materials, such as glass and paper. Plastic also has a terrible effect in landfill, leaching out its chemicals into the soil and water supply. This is the potential catastrophic environmental legacy that consumers now have it within their power to prevent – literally by not purchasing plastic packaging, which will ultimately stop it being made in such quantity.
Changing our Thinking – Changing our Shopping Habits
If consumers alter their shopping habits when they shop to cut out all the packaging that our food and other goods come wrapped in, then there will be much less work when it comes to sorting out waste and items for recycling. As the issue of recycling grows in the public consciousness, aided by this website, media campaigns showing piles of nappies, bottles, paper and other consumables, and other efforts to promote the issue, then the need and ability to tackle waste at source will become clearer, and consumers will gain a greater sense of empowerment to refuse packaging.Ultimately, the source that must change its habits is the goods producer and retailer, who needs to be convinced that the buying public doesn't need or want to buy cherry tomatoes encased in plastic, or televisions embedded in mounds of Styrofoam and cardboard.
Taking Control of our Purchasing Power and Regaining Lifestyle Choice
Taking a bag that is made of a lasting material such as cotton or hemp on our shopping trips is one step we can all make. Choosing to buy as much food as possible loose, putting it in the bag and weighing it at the checkout is a great step forward. Refusing to buy food encased in superfluous packaging, and leaving it in the shop or supermarket is another.
Asking electrical goods retailers if they will keep all the Styrofoam, plastic wrap and cardboard that the new iron or fridge is packed in, is another. This initial consumer action forces retailers to take action themselves, and hopefully they will bring pressure to bear on the manufacturers.
Take Action Together – Refuse Packaging, and Recycle as a Community
There are various pressure groups acting now to try and reduce packaging, and to give support to consumers as people struggle to do their bit with this issue. Working together on these campaigns builds a sense of solidarity and gives strength to a community. Setting goals and understanding all the issues involved, be they scientific, political or legal, is very important in this situation. Get connected, create change, and feel empowered – consumers have the power to make a difference!
You might also like...