Questionnaire: What Sort of Recycler Are You?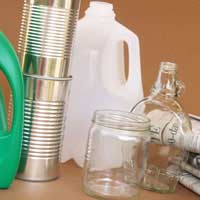 These days, we all recycle, but we all do it for different reasons, whether that's a desire to be sustainable, conserve the environment, reduce the amount of rubbish going to landfill, or just because your kids tell you that you should!
Popping bottles into the appropriate slot, and collecting paper for collection has become a part of Britain's modern way of life to the extent that many of us never really stop to think about why – apart from the obvious reasons – we're doing it.
So, just what sort of a recycler are you? Have a few minutes fun with this quick little quiz and start to find out what's really motivating you.
1. What would you say is the MAIN REASON you recycle?
a) Save the planet.
b) It's just the right thing to do.
c) Reduces the amount of waste in my bin.
2. How often do you visit a council or supermarket recycling centre?
a) At least once a week, if not more.
b) When I need to.
c) When I have to.
3. How far would you be prepared to travel to recycle if local facilities are not available for a particular type of item?
a) As far as necessary to do it right.
b) A reasonable distance, but not much more than 5 miles.
c) If the local facilities aren't there, I wouldn't.
4. Who do you think should bear the MOST responsibility for making recycling work?
a) Each of us all.
b) Society as a whole.
c) The council.
5. What do you currently recycle on a routine basis?
a) Everything I can.
b) Bottles, cans and that kind of thing.
c) Just what the council collects.
6. If your local council started paying people to recycle, do you think it would make you recycle more than you do now?
a) No – I couldn't do any more than I do already.
b) Possibly.
c) Probably.
7. If your local council started fining people who didn't recycle, do you think it would make you recycle more than you do now?
a) No – I'm already recycling all that I can.
b) If I needed to do more to avoid the fine than I do now, then yes.
c) Yes, definitely.
8. If local facilities recycling improved, would it affect how much you recycle?
a) No – but it might make it easier to do.
b) Quite probably, yes.
c) Maybe.
9. Do you plan to buy anything to help you recycle more in the next year (a compost bin, water butt or can-crusher, for instance)?
a) I've got those kinds of things already.
b) Yes.
c) No, certainly not.
10. Looking forward over the NEXT 10 YEARS do you think you'll be recycling more than you do now?
a) No.
b) Possibly, especially if new facilities appear.
c) Yes, I expect I'll have to.
Answers
Mostly (a)s
You're an
ethical
recycler. You see recycling as your personal responsibility and it's something that you take very seriously indeed, but do try not to lose sight of the fact that there are other ways to save the planet too, and sometimes recycling can take a bit of a back seat without provoking instant ecological disaster! Bottom line – it's great to be so committed, but you don't have to do it all single-handedly.
Mostly (b)s
You are a
pragmatic
recycler, who sees recycling as an import route to sustainability, but only one. You understand the need to do your bit and you're more than prepared to play your part whenever you can, while keeping the whole thing in perspective at the same time.
Mostly (c)s
You're an
reluctant
recycler; you recycle mostly because you have to, but you're probably not too keen on putting yourself out too much to do it and at the moment, it isn't a major priority for you – but you know what to do, if and when you decide to make it one.
Whichever type of recycler you are and whatever motivates you – well done, and keep it up! It really can make a difference.
You might also like...