Ways to Recycle Wood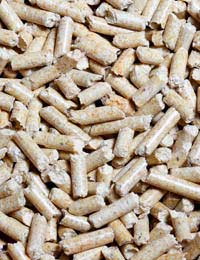 Wood is one of our most familiar materials; it's hard to imagine how we'd manage without it. It has been estimated that, worldwide, around 1.6 billion cubic metres of the stuff is harvested annually – and about 50 million cubic metres of that is used in the UK each year. Between the softwoods for construction and hardwoods for furniture and interior design, we currently import more than two thirds of what we need and according to the Wood Recyclers Organisation, generate some 5 million tonnes of post-consumer waste wood yearly.
Unfortunately, since contamination can be a problem for many potential markets, not all of this can be recycled, though at the last count, the total that actually is sits at more than 40 per cent – representing a ten-fold increase since 1996. With processing equipment getting better and better, more ways to make good use of wood waste are being developed all the time.
Reuse
Straightforward reuse is obviously the most environmentally beneficial option, if at all possible, principally because it involves the least expenditure of additional energy to achieve. One obvious way is to sell any furniture that is no longer needed, but which is still in good condition – or give it away to a charity shop or local good cause.
An increasing number of areas now have formal projects in place to help and according to the Furniture Reuse Network charity, Britain throws away a staggering 10 million items of furniture each year of which three million could be reused and still more repaired. When an estimated four million children are said to live in homes which cannot afford to replace furniture if it breaks or wears out, just consigning reusable items to the skip suddenly seems an awfully uncomfortable thing to do.
Another alternative if things are simply too far gone to be passed on is to reuse the wood itself for some other purpose – though for even the most avid DIYer, there's a limit to how many new shelves, plant-stands or bird-boxes you're ever likely to need!
Recycled Wood Products
Britain is also home to a long-established wood recycling industry – and it is one that has changed out of all recognition over the last twenty years. Back in the mid 1990s, almost all recycled wood fibre ended up being sent to make chipboard and MDF; today only about half of it ends up as panel board, the remainder finding "added value" markets principally in landscaping and animal bedding.
Large-scale land management users – the likes of professional gardeners and local authorities – have been quick to embrace the use of coloured wood chips for weed suppression and to brighten up paths and gardens, particularly in the light of the products "green" credentials. On the bedding side, agricultural operations such as cattle farming and poultry take the largest volume, though equine markets command the highest price. Obviously the raw material for these kinds of uses must be free from any contamination, but there is little shortage of suitable wood waste, so it seems that these markets will have plenty of opportunity to continue to expand.
Many local councils have provisions to send appropriate material for recycling. Civic amenity sites and recycling facilities will often accept wood waste from householders, and there are usually arrangements available to collect woody trade waste for a fee, either by the authority itself, or approved contractors. Increasingly also, locally run, not-for-profit community groups are forming their own wood recycling enterprises across the country, so it's worth seeing if there's one in your area, whether you have material to recycle, or want to buy recycled products.
Thermal Recycling
In these days of carbon-consciousness and concerns over energy security, there's another market opening up for reclaimed wood chips – as a sustainable and renewable fuel. Although the idea is still largely in its infancy, many of Britain's power generators are seeing a very real place for large-scale, wood-burning power stations in the future of UK energy production. Already the biomass power stations at Wilton and Lockerbie, which both became operational in 2007, are augmenting their intake of virgin biomass with around 20 per cent recycled wood and if all goes according to plan, so-called "thermal recycling" could become very big indeed.
Wood is, of course, sustainable, which leads some to question the wisdom of worrying about recycling it at all – especially when wood only accounts for around five per cent of the average British household's waste. There are, never-the-less, some real benefits to be had from wood-recycling, if only to reduce both the fuel use and the environmental costs associated with moving it around the country – and the globe!
You might also like...
@steven, I'm afraid we can't recommend actual companies. But it would be something you could research with not too much trouble using Google.
RecyclingExpert
- 31-Oct-14 @ 2:47 PM
I am hoping to start a waste management company recycling household waste and furnishings if there is any advice on who buys what and cost per ton would be very helpful thank you
steven
- 30-Oct-14 @ 6:33 PM